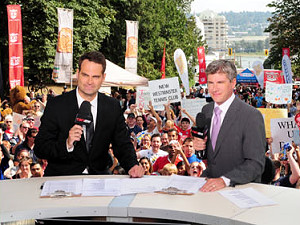 Show your community spirit tonight (July 13) at 7:30pm by the playground in front of the Kinsmen Pool and be on National television!
TSN will be shooting some clips that highlight our community as a finalist in the Kraft Celebration Tour.
Swan River and their entry for the Swan Valley Recreation and Wellness Centre faces-off against Estevan on July 19-20. TSN Sportscentre and Sports 30 will be profiling each match-up with a look at both communities and their proposed community improvement projects.
Each of the 10 winning communities will be part of the Kraft Celebration Tour and will receive a $25,000 award from Kraft for their community project. TSN SportsCentre will also celebrate the winners with a live broadcast from their community.
Show up, bring a friend, cheer hard and show our Valley Pride!