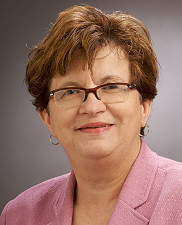 Manitoba NDP Media Release | Rosann Wowchuk, MLA for Swan River, Deputy Premier and Minister of Finance, announced today that she will not seek re-election in the October provincial election.
Wowchuk was first elected as the Member of the Legislative Assembly for Swan River in 1990 and re-elected in the 1995, 1999, 2003 and 2007 general elections. When the NDP formed government in 1999, she was appointed Minister of Agriculture, the first woman to hold that portfolio in Canada's history. In 2009, Premier Greg Selinger named Wowchuk Minister of Finance and the Minister Responsible for Manitoba Hydro, the first woman to be appointed to those portfolios in Manitoba's history.
"As Minister of Agriculture, Rosann was a trailblazer and earned the respect of all her colleagues across this country" said Premier Greg Selinger. "Her grassroots and no-nonsense approach coupled with her experience and energy made her a formidable Minister, not only in this Province but across Canada".
"As Minister of Finance, Rosann mapped out a plan to weather a global economic storm. Her experience has proved successful and can already be seen in the development and growth both in urban and rural communities", said Selinger. "She has been an advocate for every Manitoban in this Province".
Wowchuk is also the Minister responsible for The Crown Corporations Council and the Civil Service Commission. During her time in government, she has held the positions of Minister of Intergovernmental Affairs and Minister Responsible for Cooperative Development. She will continue her duties as Minister until after the October election.
"Although I intended to run in the upcoming election, personal issues have arisen that have caused me to reconsider that decision" Wowchuk said. "I am very honoured to have served the people of the Swan River constituency for the last 21 years, proud to have represented the farming community, Métis and First Nations and the urban centres in the legislature".
Wowchuk said she plans on spending time with her family and continuing her activism and advocacy in her community.