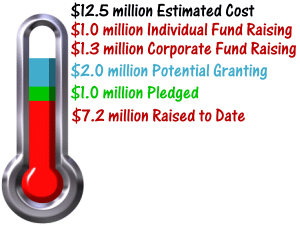 Swan Valley Recreation and Wellness Centre Media Release | People throughout Manitoba will soon be receiving a cheque in the mail from Manitoba Public Insurance. 
The average Autopac rebate cheque will be about $450.
The Swan Valley Rec and Wellness Centre is challenging Swan Valley
residents to invest $365 of their refund in the future wellness of the
community by becoming members of the 2740 Club.  The 2740 Club is looking for 2740 members to donate $1 per day for 1 year to meet the $1 million fund raising goal.
The $1 million raised through the 2740 Club will be combined with the $10.2 million funding commitment from the federal, provincial and municipal governments and $1.3 million in corporate donations currently being negotiated to cover the projected capital cost of the project estimated to be $12.5 million.
In addition to many local supporters, current 2740 Club members include individuals from as far away as Alberta, BC and the United States as well as Manitoba Premier Greg Selinger, Manitoba Deputy Premier/Minister of Finance Rosann Wowchuk, local MP Bob Sopuck, Hugh McFadyen (Manitoba Conservative leader) and Dr. Jon Gerrard (Manitoba Liberal leader).
The current list of 2740 Club Members will be available soon on the Swan Valley Rec and Wellness Centre website at: www.swanvalleyrecandwellness.com

Pledge forms are available at most businesses in Swan River and on the following websites:
www.swanvalleyrecandwellness.com
www.svcu.mb.ca
www.valleybiz.ca
More information on the Autopac refund is available at http://www.mpi.mb.ca/english/newsroom/articles/Other/RebateMay2011.html